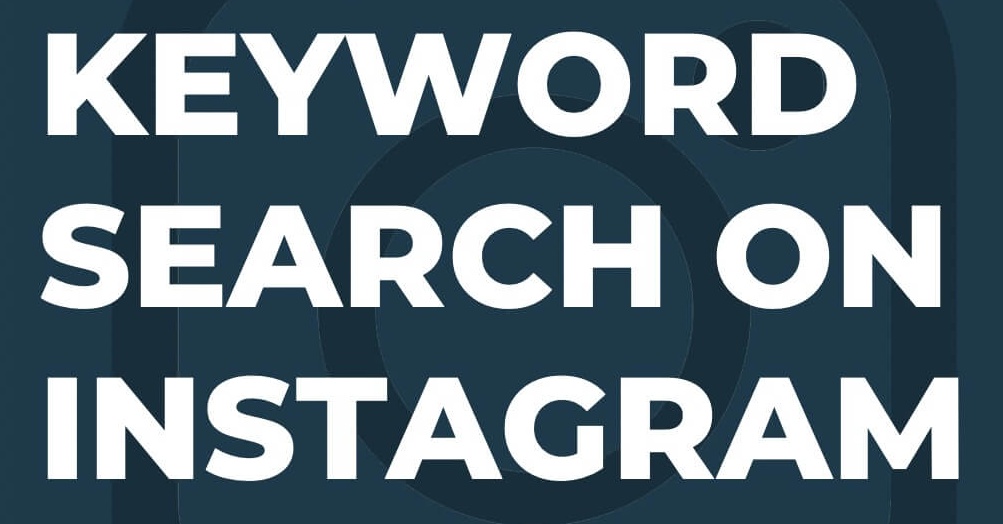 Ten years since its inception, the long-awaited ability to perform keyword searches has finally arrived on Instagram.
Prior to this, users have only been able to find content through hashtags or usernames, limiting search on the platform. However, as part of Instagram's recent update, the company has announced that users will now be able to discover content using keywords through its in-app search feature.
So, what does this mean for your business?
Search update on Instagram: what we know so far
Before we delve deeper, here's a quick roundup of what we know.
Search beyond hashtags or usernames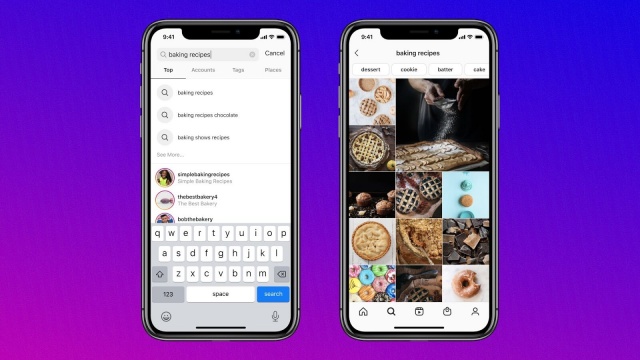 Image Source: Instagram
As shared in a tweet by Adam Mosseri, head of Instagram, users can discover content with keywords.
The update opens a new possibility to find your interests through keywords. Previously, for instance, if you want to see posts of cute British Shorthair kittens on Instagram, you have to search through hashtags, like #britishshorthair. The new update will allow you to find one without hashtags.
At the moment, the result will only show relevant results from grid posts.
How does Instagram show users the relevant result? Machine learning!
According to The Verge, Instagram considers some factors when users try to find content through a keyword search on Instagram. The factors are:
Type of content, only grid post will show up for now
Captions
Date posted
Machine learning to find the most relevant content for users
Only rolled out in six countries for now
The update is not out for all users yet. Instagram only released the update for users in Canada, the U.S., U.K., Australia, New Zealand, and Ireland on November 17th, 2020. So, Singaporeans will not be able to find the feature yet if you update your app today.
The keyword search is still limited
Keywords are helpful to help us discover content that we like. However, the feature is still limited.
Only certain terms can be keywords, and they must be within Instagram's community guidelines. You can search for "puppies" and "flowers." An example of a keyword that you cannot find is "vaccine."
There is always room for improvement. Currently, the results lack a certain level of accuracy and precision. For example, The Verge reported that their search for "healthy recipes" was not exactly what they were looking for in a healthy recipe.
What does Instagram's Search update mean for you?
More than just increasing time spent, this actually makes Instagram more useful as a tool for Top of Funnel and Middle of Funnel strategies. With search being available, users can now be more specific with their search requests and not be limited to search terms with hashtags.
In the near future, this feature could be developed to allow the possibility of optimising content for longtail keyword searches rather than generic hashtags.
Infographics and visual guides that help users to diagnose their problems or provide solutions can be optimised for longer search queries that users may have, e.g. "Healthy Breakfast suggestions", instead of simpler hashtags such as "healthyeating", "healthyfood".
Why? Because we can use Instagram as a search engine to find more exciting content that is in line with our interests.
Wider reach
Since Instagram considers captions for the keyword search result, you can reach a wider audience through your caption. Try to write a caption that uses keywords relevant to your profile. That way, you can increase your chance to be featured on Instagram's search results once they release the update in Singapore.
Easier discoverability
Optimising captions with keywords improves the discoverability of your profile. This will allow users to come across your profile more easily. For small and medium businesses, this is an opportunity to support growth and grow awareness.
Recommended reading: Integrated Marketing 101
Tips to optimise your Instagram for more reach
Here are some ways to optimise your Instagram profile before Singaporean users receive the Search update:
Select keywords in a compelling caption
Consider what users are looking for when searching on Instagram. Much like SEO, keywords should appropriately describe what users can gain from your post. Posting an image of a birthday cake? While it would previously suffice to post a simple caption stating 'Happy Birthday Susan!', Instagram's new update rewards captions that better describe the image or video showcased.
We know so far that Instagram considers captions and publishing dates to show relevant results when users perform a search. In other words, you must consider including relevant keywords in the captions of your upcoming posts.
Image Source: Expedia
Let's take a look at the post from Expedia. They talk about how Prague could be a fantastic destination for autumn. In the caption, they insert "Prague" and a relevant keyword, in this case, Charles Bridge, which is a famous bridge in that city.
With that caption, Instagram's algorithm can consider the caption a relevant result when people search 'Prague' or 'Charles Bridge' as a keyword.
Keywords on Instagram name and bio
After you optimise your caption, take a look at your profile. This will help users who just discovered your business through an optimised post to get a better idea of your business.

Image Source: The Soap Co.
The first example is from The Soap Co. Let's say we are looking for a skincare product and come across their keyword-optimized post. Since we are not aware of this brand, we take a look at their profile. It turns out that by opening their profile, we get a clear idea of their brand—a luxury skincare brand with an ethical consciousness.

Image Source: @freddysusa
Another example is from @freddysusa, the Instagram profile for Freddy's Frozen Custard & Steakburgers restaurant chain in the U.S.
Their name and bio could help with their brand awareness for people who accidentally discovered this chain by looking at their post through "steakburgers" or "frozen custard."
Observe how these two profiles get creative with their hashtags.
And yes, hashtags in a profile will also help your discoverability.
A brief description of Instagram's alt text feature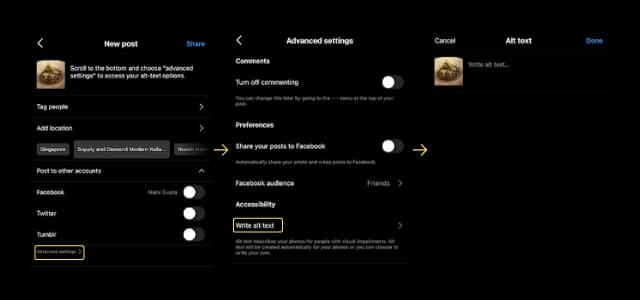 The alt text is an accessibility feature to help visually impaired Instagram users. The feature enables the users to understand the content when they use assistive technologies. In Instagram, the alt text will be automatically created if you do not fill it.
However, it is better to write a brief description of the photo you post instead of relying on Instagram to write one for you automatically. This will ensure the alt text provides the actual description of the image.
Besides, providing alt text on an image helps a machine-learning algorithm better understand the content, as in search engine optimisation. For instance, Google uses alt text to help its Image Search.
You can access this feature before sharing a new post. Before you share, go to the "Advanced Settings" at the bottom, and then tap on "Write Alt Text."
The bottom line of the Instagram search update
In simple words, the newest update for Search functionality in Instagram allows users to search for things easily.
These are what Instagram has told us so far:
You can search beyond hashtags, usernames, locations, and names
Instagram decides the relevant result by the type of content, caption, date posted, and a machine-learning powered algorithm
The feature is still limited and not out in Singapore yet
What does this mean for your business?
Reaching a bigger audience
Improving discoverability of your Instagram profile
Get working on your Instagram profiles and posts and increase your chances to attract potential customers!