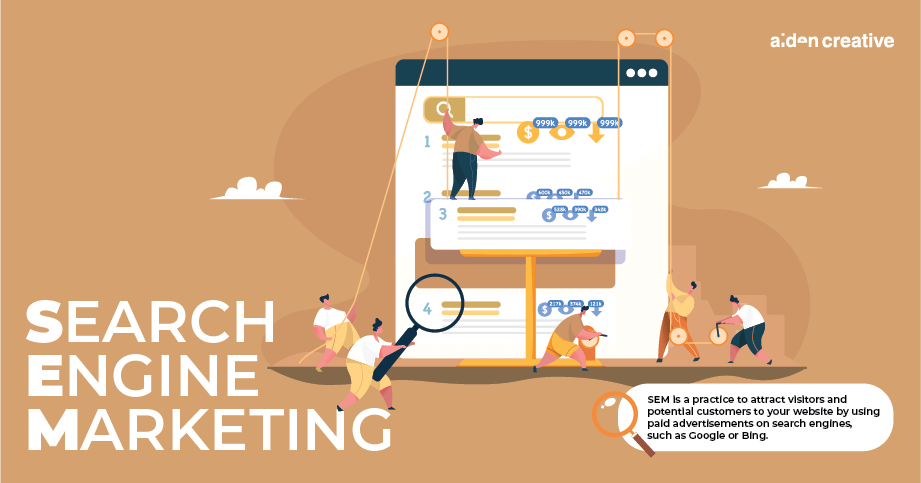 Do you know that there are an estimated 5.8 billion searches every day on Google, the widely used search engine?
With that amount of searches, more and more people are going digital to grow their businesses. Therefore, any business needs to learn what SEM is and its importance for your business.
What is SEM? 📈
Search engine marketing or SEM is a practice to attract visitors and potential customers to your website by using paid advertisements on search engines.
There are some examples of advertising platforms on search engines, such as Google Ads and Bing Ads. Using SEM, you can plan and purchase targeted keywords to appear as an advertisement on search engine result pages (SERP).
SEM is different from traditional advertising because you only have to pay when a searcher clicks on your ad. That is why it is also known as pay-per-click advertising.
When you plan and execute your SEM strategy, your brand will appear when users search for the targeted keyword. They can appear on top of the results on SERP, with organic results following under your ad. The organic results come from the work of search engine optimisation or SEO.
Both SEM and SEO are under the umbrella term of search marketing. In this marketing strategy, they both can work together to deliver growth for your business.
The difference between SEM and SEO
The main difference between them is SEM is a paid strategy to show up on the top of SERP. At the same time, SEO uses organic or unpaid practices to grow the visibility of a website.
In other words, SEM provides you with an instant result if that is what you are looking for. On the other hand, the result of SEO may take a while but can be fruitful for your brand in the long run.
Recommended reading: SEO vs SEM, What Are They?
Benefits of SEM for a business 💯
It is hard to dispute how helpful search engines are in helping our daily life. For instance, when you are looking for a new air conditioner service contractor, you will also try to find some references from the internet. And that is why SEM are essential for a business.
Why? Because most people use the internet every day. With search engines, people can find you easily when you do it correctly. Specifically, SEM can help your business in:
Brand awareness through the internet
After months of hard work and finally, you can open your dim sum place. The grand opening has been good for you, customers keep eating at your place, yet you want more people to know that you are the new kid on the block that dim sum lovers should know. In this example, SEM can be an excellent strategy to raise awareness of your new restaurant.
Once you understand SEM, you can plan a campaign to target keywords relevant to your restaurant, such as dim sum place in Singapore and appear on the first page of the SERP when people search for "dim sum place in Singapore". Voila, instant brand awareness for you!
Target the audiences that you want
Let's go back to the example of an air conditioner service contractor. Let's say you operate one with outstanding workmanship and affordable pricing. Still, you believe that you can attract more customers without spending too much money on marketing your service.
SEM can help you plan and execute a campaign for audiences looking for affordable service for their air conditioner units. That way, you can reach your target audiences easily when they perform a search term like "affordable aircon service".
In SEM, you can also set your target audience through filters. Therefore, you can select your desired demographic or locations.
More calls, more visitors, more sales
A successful SEM campaign can help people to notice your business. Depending on what you want to achieve with your campaign, they can attract more people to your service. Hence, you have to be ready when you set up your campaign to attract more calls to your air conditioner service business or be prepared when more visitors come to your dim sum place.
In short, when SEM helps in getting more people to know, try, or purchase what you offer, your business can generate a more considerable revenue than before.
Competitive edge over competitors
SEM is also useful for brands with good awareness. How does this work?
Let's pretend that your dim sum place is widely known to the locals, but not for foreign tourists. Though you are famous among the locals, your competitors hold a competitive advantage because their places are the first to show up on the first page of SERP when those tourists search for certain keywords relevant to a dim sum place. 
Since you just started to invest more time to do SEO for your dim sum place, your place does not show up yet on top of the SERP. In this example, you can compete with them in search marketing by using SEM and appear above their websites on the SERP.
It is cost-efficient
Through SEM, you do not have to spend as much money as traditional advertising, such as broadcast, outdoor, or printed advertising. If your current SEM ads do not perform as expected, you can stop being charged for a while. It is possible to pause the campaign, optimise it, and test what works best for your ad.
Keep in mind that in SEM, you only have to pay when users click on your ad.
Brand recognition
People are already aware of the superb workmanship of your air conditioner service business. You can stay on top of their minds by utilising SEM. There is only a slim chance that people want to try other contractors when you manage to be recognised by new and existing customers.
Growth for your business
Over time, the benefits of SEM will be beneficial to your business. You can use the growth to invest more in your business. Your dim sum place can provide more space or hire more technicians for your air conditioner service.
Understanding how SEM works 🔎
SEM revolves around keywords. In simpler terms, search engines use words or phrases that you type to serve ads related to your queries. Those ads can be shown in several forms depending on what type of SEM campaign that you choose.
Campaigns in SEM
In SEM, some common campaigns are:
Search or text ads: the result that is marked as an "Ad" when you perform a search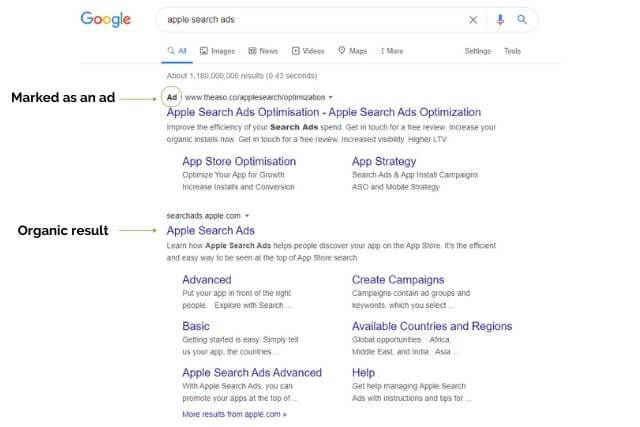 Display ads: visual banner advertising that can appear on websites you visit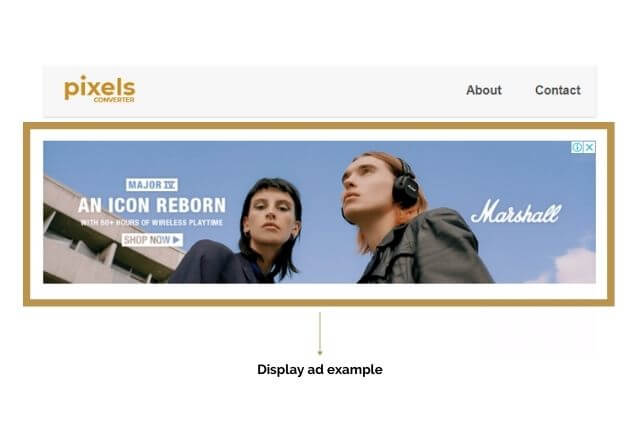 Video ads: an advertising campaign in the form of video that is played through search engines' network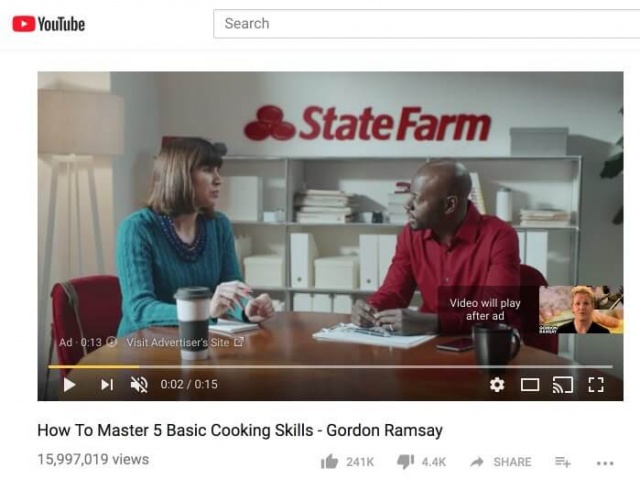 Credit: Instapage
Shopping: a campaign to promote your products by providing details (photo, price, etc.) that will be shown in the search engines' network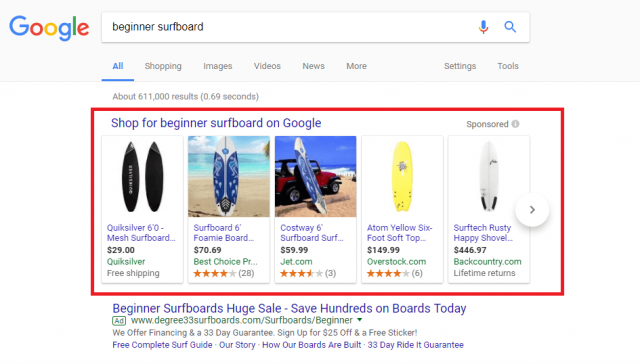 Credit: Business 2 Community
How SEM works ⚙️
Overall, this is how an SEM campaign looks like:
Set up an account on chosen SEM platform (Google Ads, Bing Ads) if you never have one

Research and identify keywords that you want to target

Define the specific targeting

, such as location, time, demographic, and device for your targeted keywords

Structuring your campaign into several relevant ad groups when needed

Create compelling copies for your ads

Bid and win the ad auction for your SEM campaign
Recap of what SEM is 📝
SEM stands for search engine marketing

SEM is an act of promoting your website or product by purchasing advertising spots on search engines and their network

SEM helps businesses to grow by improving brand awareness, reaching the correct audiences, increasing revenue, and staying competitive

SEM is different from SEO
Recommended reading: Understanding What Search Engine Optimisation Is