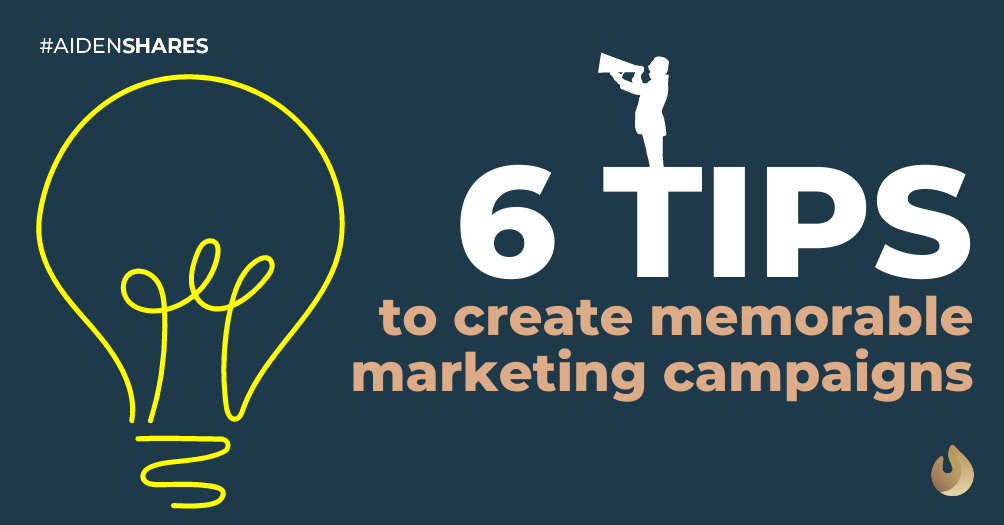 "Marketing is a contest for people's attention", according to Seth Godin—a best-selling author and 2018 Marketing Hall of Fame Inductee.
And that is true because you need to stand out from the crowd to be noticed nowadays. You need to stay competitive in an increasingly challenging market.
But how can you navigate and break through the challenges?
You need a captivating marketing campaign. And we have six tips for your next campaign. These tips are the fuel behind fantastic marketing campaigns around the globe.
1️⃣ Be empathetic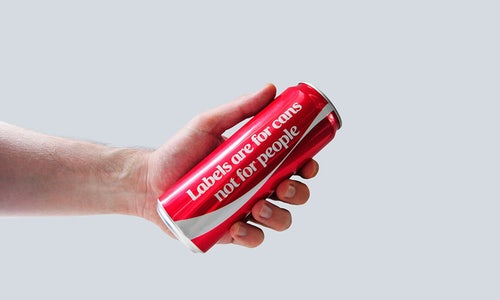 We are human, so we need to be human in our marketing efforts too. According to Coca Cola, labels are reserved for cans; we should not label other people. So, they released a video for the "Remove labels this Ramadan" campaign back in 2015.
And the result of that empathetic marketing?
19 million views and counting

The 2nd most viewed Coca-Cola online video of all time

Coca-Cola consumption increased

51%
So if you're looking for ideas for your upcoming marketing campaigns, injecting some empathy could be something to think about.
Empathy can help your content become something your audience cares about. It can stop them from skipping or scrolling past your content. Also, it pushes them to share your content with other people.
Through empathetic content, you can amass people to become an advocate for your brand willingly.
2️⃣ Bring your brand to life
Let's just say we like to buy furniture or anything cute for our room in this work-from-home era we're living in. But we are not professional interior designers, and so, our best bet, of course, is to have a visually appealing study room by visiting IKEA's online store.
Wait, why did we choose IKEA? Because IKEA brings their brand to life by showing their products at work.
The first time you enter their homepage, you will be welcomed by their range of products in a real-life setting. When you browse through almost any products, you can find a photo of those products in a real-life environment, not just furniture on a blank background.
IKEA taught us that you could sell stuff without looking too salesy. Instead, you can show how your goods look in a real-life setting.
3️⃣ Out of character…for the greater good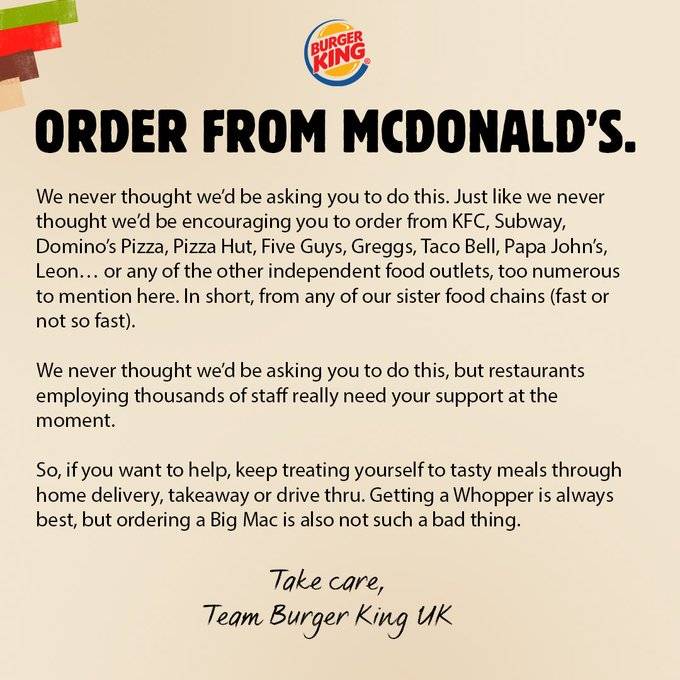 Finding some ideas for your next campaign? You can try to make your brand come out of character for a little bit. Except, you do it for the greater good and, of course, engagement.
For instance, Burger King did it in 2020. Burger King UK showed that they are as tender as their beef patty when they asked their customers to get a Big Mac from McDonald's.
Encouraging other players in the same industry was out of character. Yet, it made sense during this pandemic because many restaurants employing thousands of people or independent food outlets struggled to stay afloat.
And Burger King made a gesture that was out of character to bring attention to home delivery, takeaways, or drive-throughs that can help. What follows are 165.8K likes on Twitter, countless appreciation tweets, and many brands following that kind of mutual appreciation content.
4️⃣ Practice what you preach
Some brands love to stay "woke" nowadays. Suppose your brand also cares about real-world issues, your brand can do more by practising what they preach.
One real-life example is Lyft. Lyft's drivers come from diverse backgrounds, so it is just right for them to advocate for immigration and immigrant rights. Therefore, they launched a campaign where their passengers can donate to RAICES (Refugee and Immigrant Center for Education and Legal Services).
In order to garner support for that cause, Lyft initiated a campaign known as the "Cities Talk Back". They developed a website so people can witness and read some of the real issues immigrants face in the US.
What we can learn from Lyft is that brands can use marketing to build and maintain the loyalty of their audience. You just need to stay true to your beliefs, practice what you preach.
5️⃣ Beat the stereotype in your industry
In some industries, sometimes there is a long-held stereotype that may or may not be valid. A stereotype can limit your growth at a glance.
But you can also turn it around and use the stereotype to connect with your target audience.
For instance, financial investments are more likely to be a man's game and Charles Schwab—a global investment firm—also acknowledges it. As such, they created the "Women & Investing" campaign to break through the barrier and encourage more women to invest by creating a campaign focused on women. And fast forward to 2021, one of the videos from the campaign hit 275K views.
Another example we can think of is the skincare industry. There is a general belief that skincare products are mostly catered towards women. And the players in that industry want to beat that stereotype.
In 2021, it is easier to spot skincare products trying to embrace more men to take care of their skin. The term gender-neutral products are louder than ever. In marketing their products, they now turn their focus on what your skin needs, no longer using stereotypical words on their packaging.
6️⃣ Venture into a new format
If you have the resource, why not try your hand at a new format?
For example, try to get into podcasting for your brand. Podcasting is on the rise now due to mainstream adoption made easy by Apple and Spotify. Also, the audience who spend their time listening to podcasts is expected to double between 2020 and 2023.
Brands who want to try their hand at podcasting also can gain these benefits:
Connect with a very segmented audience

Another media to maintain relationships with your audience

Become touchpoints for your audience who prefers listening instead of reading or watching
In case you are looking for an example of how a brand can do podcasting right, check out Shopify Masters. Shopify brings actionable strategies and marketing advice for eCommerce in the form of podcasts.
The takeaways 🧾
So, the next time you're planning for a new marketing campaign, incorporating one or some of these can help your campaign:
Using storytelling can captivate people's attention

Being empathetic instead of tone-deaf can go a long way

An unexpected surprise from your brand, as Burger King did, can make your campaign go viral

Try a new content format