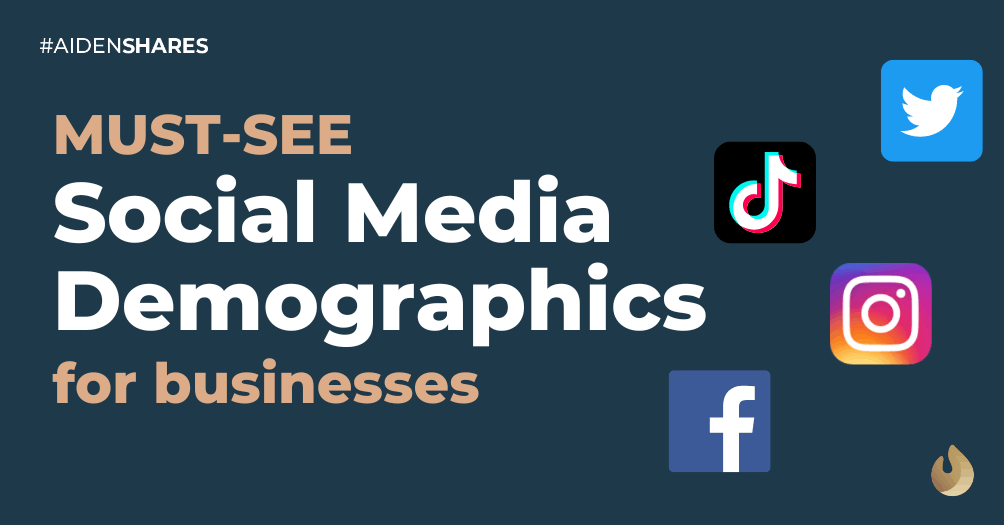 If you're like most business owners, you know the importance of social media. After all, it's one of the most powerful tools for marketing your business. But what you may not realise is how different social media platforms cater to different demographics. Selecting the right platform for your business is hence crucial to ensure that you don't miss out on a key demographic for your business or even market to the wrong audience!
To help you make the best decision on where to channel your marketing efforts to reach your target audience, here are some must-know social media demographic statistics for business owners. 
TLDR
Facebook is still the king for active users worldwide

TikTok is here to stay, with 1 billion monthly active users

Do not ignore Instagram, its users spend 10.3 hours a month on the platform

Twitter is not dead, in fact, 500 million tweets are made per day
Social media demographics in general
It's no secret that social media has taken over the world. In just a few short years, platforms like Facebook, Twitter, Instagram and TikTok have transformed the way we communicate with each other. And while you might say that there are plenty of negative aspects to this phenomenon, there's no denying that social media has also had a positive impact on our lives.
For one thing, it's made it easier than ever to stay in touch with friends and family members who live far away. It's also given people a platform to share their thoughts and ideas with the world.
Here are some key facts about general social media demographics:
4.62 billion

social media users in the world as of January 2022

Users spend an average of

2 hours and 27 minutes

on social media per day

Facebook has

3 billion

active users globally

Keeping in touch with friends and family is cited by almost 50% of global internet users as a significant motivation for their usage of social media
Facebook demographics
Facebook is still the king (or queen) of social media, regardless of what we think of it. It originally started as a way for college students to connect. Nowadays, its user base has since expanded to include people of all ages and from all walks of life worldwide. So just who is using Facebook these days?
General statistics
Facebook users' age, gender, and geographical statistics
The bottom line for Facebook demographics
Despite the platform's reputation as seemingly boomer, a large percentage of the platform's user base is still made up of millennials. With such a large and diverse user base and enormous potential audience, it's clear that Facebook still plays a critical role in any brand's social media strategy. And thanks to Facebook's targeted advertising capabilities, businesses can also reach specific consumers who are most likely to be interested in their products or services more easily – a key feature that may not be as developed on other platforms.
TikTok demographics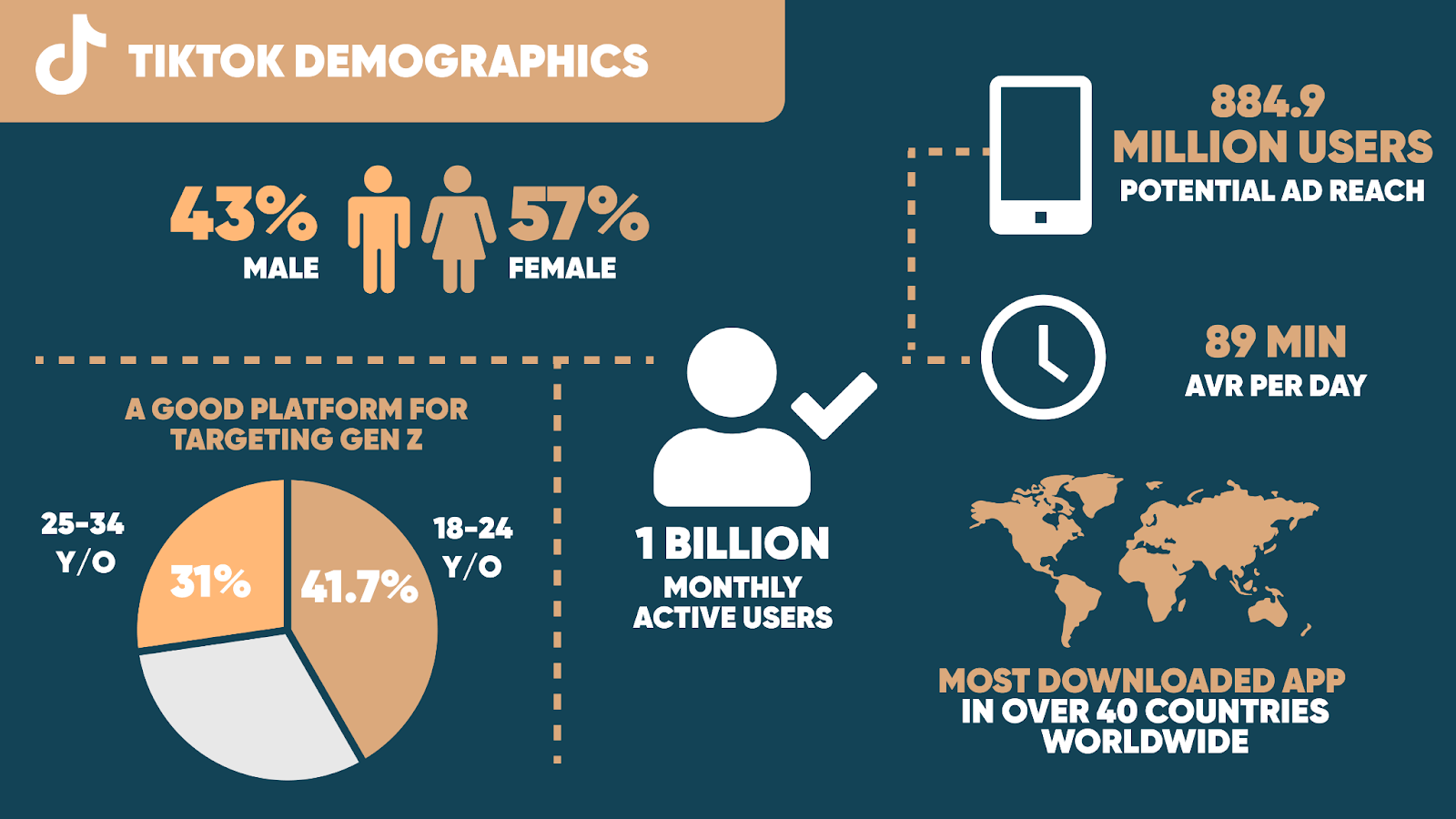 If you're not on TikTok yet, you may be wondering what all the hype is about. TikTok has taken the social media world by storm with millions of active users in a short span of time. And it's no wonder why – the app is incredibly addictive, thanks to its mix of short videos. But who exactly is using TikTok? Let's take a look at the real TikTok demographics.
General statistics
TikTok users' age, gender, and geographical statistics
The bottom line for TikTok demographics
TikTok's audience is heavily skewed towards the youth, possessing a large Gen Z population. As such, it's an excellent platform option for B2C brands looking to reach a young, engaged audience.
But, do you ignore TikTok if this age group is not your target audience? Definitely not.
TikTok users are highly engaged, with the average user spending 89 minutes on the app each day. In addition, due to features that allow users to create short-form video responses, comments and like content easily, TikTok is regarded as one of the best platforms to create an engaged community. For businesses, this presents a perfect opportunity to deliver marketing messages to users who will become eventual customers in an effective and personal way. 
The rise in short-form video popularity also signals changing consumer behaviour in terms of media consumption, making it pivotal for brands to familiarise themselves with the platform to stay up to date. 
Instagram demographics
Finally! Instagram. 
Instagram is one of the most popular social media platforms today, and according to recent data, these are the people who spend their time on the platform.
General statistics
Instagram users' age, gender, and geographical statistics
The bottom line for Instagram demographics
There's no doubt that Instagram is a powerful marketing tool for businesses. Used by nearly an equal number of men and women and with around 2 billion active users, this is good news for companies that want to reach a broad audience.
Instagram is also the best platform for brands looking to reach Gen Z and millennials. Approximately 60% of Instagram users are people aged 18-34, making it a key channel for those who wish to grow awareness amongst that age group.
Of course, Instagram doesn't just benefit from its sheer number of users – with the platform's visual nature promoting the sharing of photos and videos, it's the perfect place to showcase food, fashion and lifestyle in a curated manner that entices purchases.
Twitter demographics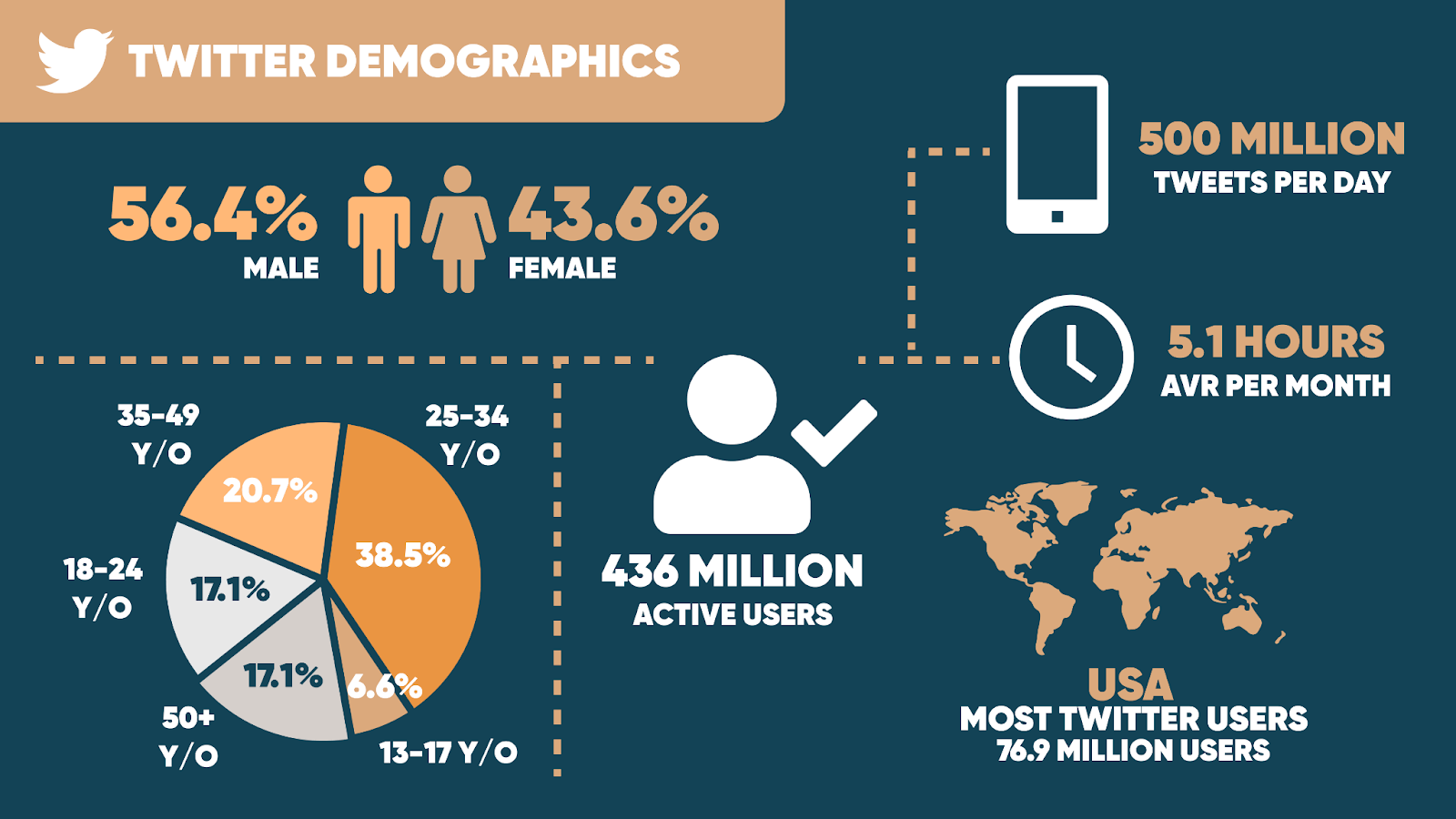 Are you a business owner looking to understand Twitter demographics better? Twitter can be a great marketing tool—but only if you target the right audience. Here are some key statistics to keep in mind.
General statistics
Twitter users' age, gender, and geography statistics
The bottom line for Twitter demographics
While Twitter may boast a lower group of users compared to the others, Twitter is still an influential platform favoured by politicians, celebrities and CEOs. Comparative to other social media platforms which are mostly used for entertainment and sharing of personal updates, Twitter is also more frequently used by users to keep up abreast of current affairs and world news. This makes it a key platform for businesses in niche industries, and businesses with a need to provide constant updates.