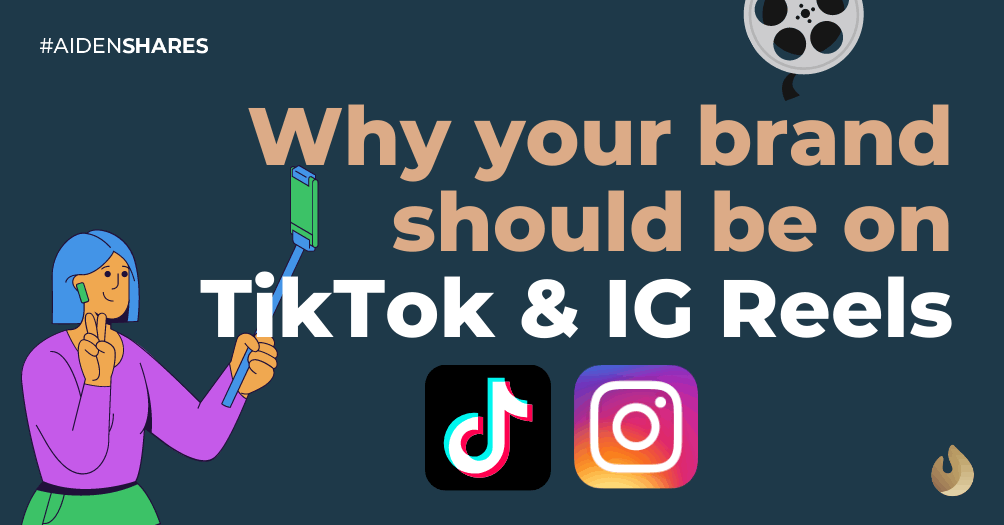 Fact: Short-form videos are doing better than all other content types. And we have proof to back it up.
A study found that consumers favour shorter videos over medium and long videos (four to twenty minutes in length). All age groups share this vision—from Gen Z to boomers. 
And do you know who helped usher in this era of short-form videos?
TikTok.
Between January and December 2021, they ranked as the most downloaded app according to App Annie. Following the rise of TikTok, Instagram introduced Reels within its platform. 
Over a million views on TikTok and Reels every minute, and uncertain reach algorithms, this is where people are spending their time. You could even call it the "black hole" because once you open these apps, you end up watching content for over 2 hours non-stop!
TLDR:
TikTok and Instagram Reels have a very high reach, much higher than normal posts

Today, users prefer to enjoy relatable and raw content, and TikTok or Reels are the perfect places to create and watch them

Users have moved beyond the manufactured perfection and prefer to enjoy "real" content

TikTok and Reels tend to offer up content that isn't monotonous; most are unique and creative

The largest age group of social media users loves TikTok and Reels, so you should get your brand on it now!
Reach is immense
View this post on Instagram
According to the most recent data published in 2022, there are 1.478 million active users on Instagram and 1 million active users on TikTok. TikTok users consume bite-sized videos that add up to about 19.6 hours per month, while Instagram users spend about 11.2 hours per month on the app.
TikTok and Reels both have a substantial reach due to their massive numbers of users. Ads on Instagram Reels, for example, are estimated to have a reach of about 675.3 million. And this represents 45.7% of Instagram's total advertising reach!
Similarly, TikTok ads have a potential reach of about 884.9 million. With 4.95 billion internet users worldwide in 2022, ads on TikTok can reach as high as 17.9% of them. This is data proof for those who don't believe in trend following!
Users favour relatable and "real" content
The reasons Instagram users open the app:
To share photos and videos

To stay up-to-date with the latest information about their favourite products and brands

To kill their boredom with funny, relatable and entertaining content
On the other hand, TikTok users keep coming back to the app because they want to:
Consume relatable content

See what's trending around the world
You can find plenty of humorous and entertaining content on Instagram Reels and TikTok. The algorithms used by those platforms will serve them to you on a platter along with content they think you will definitely enjoy.
And so far, this algorithm has not failed to continuously change and adapt to the likes and dislikes of users, ensuring all the content they get is something they like. It's almost like the algorithm knows you better than yourself!
That is why businesses should take full advantage of these applications; they know their users too well and ensure your ads reach the right place.
Perfection is such a turn-off
About 36% of consumers believe that social media posts need to be more authentic. Gone are the days of perfectly photoshopped models and flawless skin. These turn people off. It's about keeping it real. The more real, the better. The behind-the-scenes and bloopers would probably do better than the polished and edited video.
People are growing tired of perfection. This is the very reason TikTok and Reels are winning. Content created and shared on these applications has been genuine, opinionated, relatable to the average joe and very, very real. 
It's not just a trend; it's the kind of content that's winning hearts. A touch of imperfection and realness on social media may be quite beneficial for your brand. By switching your strategy to casual posting, you may be able to adapt to today's social media landscape, where users crave authenticity and spontaneity. If you feed it to them, you have them on your side.
There's no dullness or one-dimensionality
Social media is the second most popular channel for people to research brands after search engines. Users look at a brand's Instagram page before deciding to make a purchase or a booking. And they are getting smarter by the minute. When they see an ad on their feed, they will scroll away immediately. This is the unfortunate reality of one-dimensional sponsored posts. They don't catch your customers' attention anymore.
Brands that put more effort into their sponsored content instead of simply posting an in-your-face promotional banner with a "buy now" CTA are counteracting users' tendency to scroll through sponsored posts and brands' marketing messages.
By being more spontaneous or genuine with their TikTok or Reels, the quality of content is thus in line with what users love. If you're telling a story or sharing an experience with no filter and featuring everyday people, you'll get their attention and have a better chance of converting them into your customer.
As a result of these new behaviours, posts on TikTok and Reels tend to perform better than the standard static content. You have to keep up!
The largest demographic group
The largest demographic group on social media is Gen Z. On average, they spend about three hours on social media a day. From entertainment, news, shopping to communicating with their friends and loved ones, social media is their go-to channel. This digitally native generation is shaping the direction of what comes next for social media.
Understanding their impact on the digital and social universe will give your brand an edge in today's market, even if you don't plan to market to them.
It is imperative that businesses meet consumers at a point with the most impact and reach. Reels and TikTok are two avenues that are worth considering. It's easy, follow trends and keep it real!