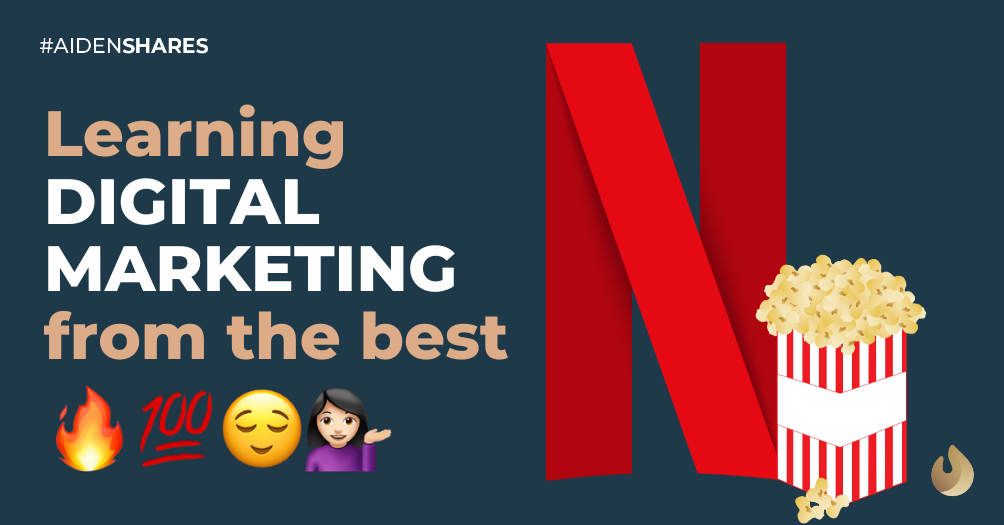 We're back to night-ins; thank you, COVID-19.
This means more Netflix and chill at home. And right now, you're either subscribed to a Netflix plan or have been using your friend's account for months.
People in Singapore have been pampering themselves with entertainment from different streaming platforms. It's non-stop binging with Friends on Netflix, The Office on Amazon Prime, Star Wars on Disney+ and Ted Lasso on Apple TV+. We know that these platforms are competitors, but, at this point, they seem to be filling each other's gaps—offering content the other does not provide.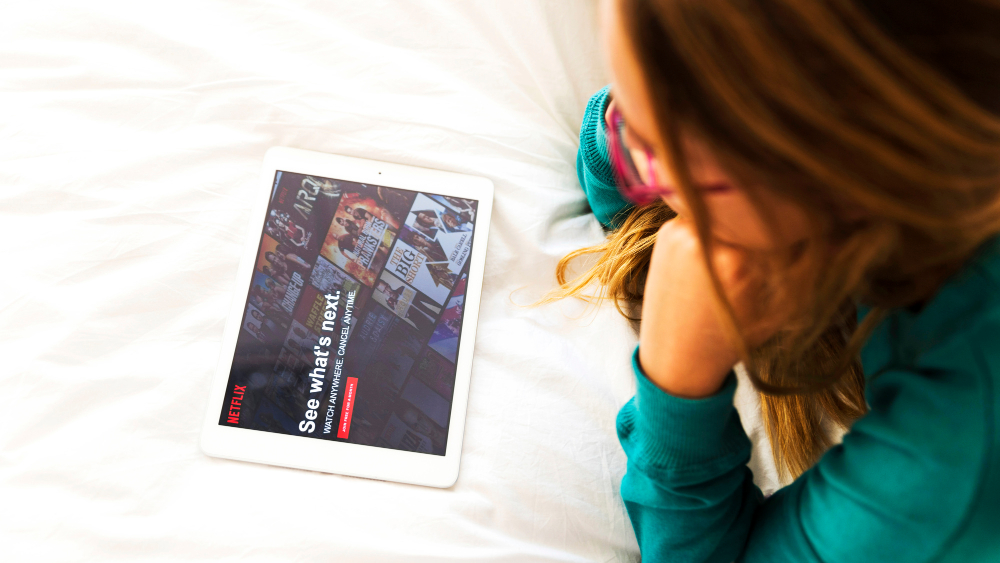 Regardless of which platform you like or use the most, you cannot deny Netflix's marketing game. Netflix, arguably, stands out in marketing its content or shall we say, they've earned a black belt in marketing strategy.
Social Media Creativity 📈
If you follow Netflix on Instagram and Twitter, you'll know exactly what we are talking about. They are so contemporary yet spot on with their social media activity. 
You'd be surprised to know that they rarely post the same content across their social media channels. For instance, the posts you see on their Instagram and Twitter are never the same. They cater to the audience of the platform rather than just hard-selling their subscription service all the time.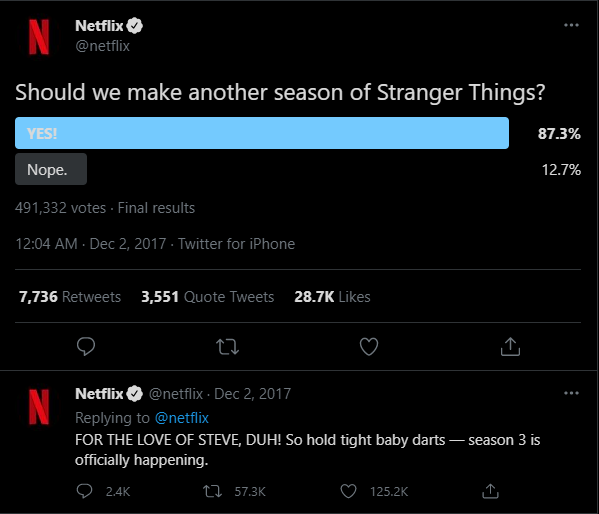 Image source: Netflix's Twitter
Also, Netflix loves to utilise unique features on social media to engage with fans. They use Twitter Polls to ask exciting questions that followers can't leave unanswered, generating thousands of impressions and engagement.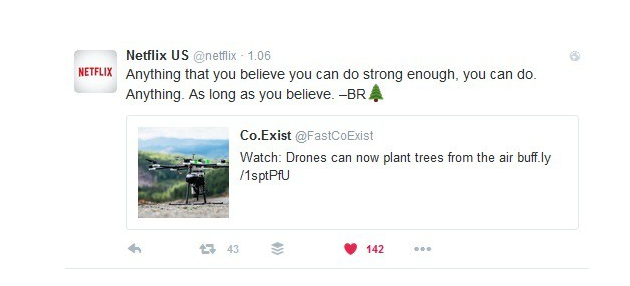 Image source: Brand24
They also aim to create a supportive community, actively sharing content created by other brands and interacting with them through their account. And even when they do it, they try to link the content to what's happening on Netflix. For example, back when Bob Ross' show was still on Netflix, they shared content from other brands and gave it a spin to make it relevant to the series.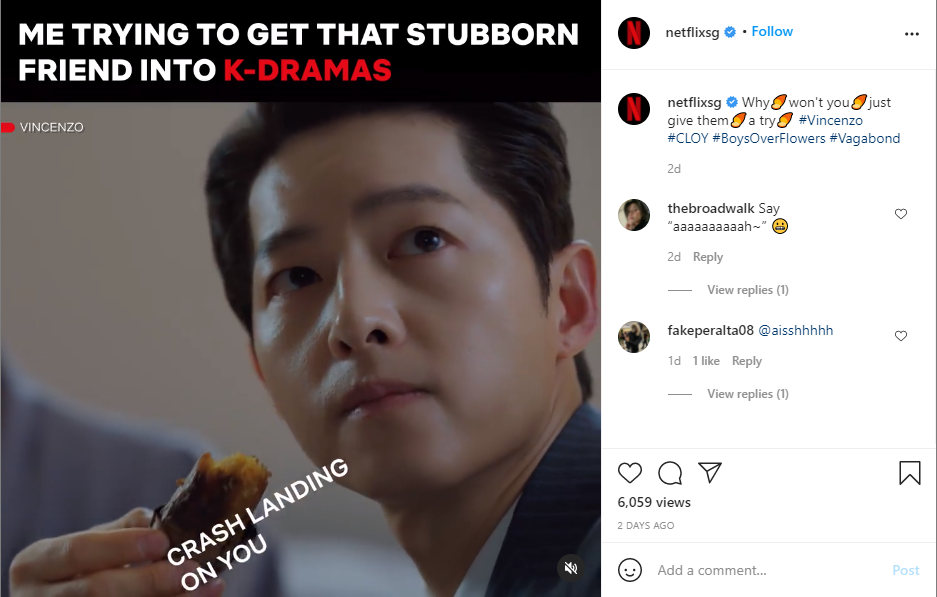 Image source: Netflix Singapore
It's pretty smart of Netflix to use its actual content as content. They juice out scenes from movies and Netflix original series or even use inside jokes and references from iconic shows. It works very well for them because people who haven't seen these movies/series get influenced to watch them, to understand the inside joke on the posts that everyone seems to be commenting about.
In addition, they fill their socials with humour. And since people think the content is very relatable, they share the posts with their friends. As a result, Netflix gets more publicity!
However, that is not the only recipe for their marketing success. Besides the memes and humour stuff, they also communicate with their audience. It is common to see big corporations posting things on their socials, then just putting up some templated comments whenever their audience asks something.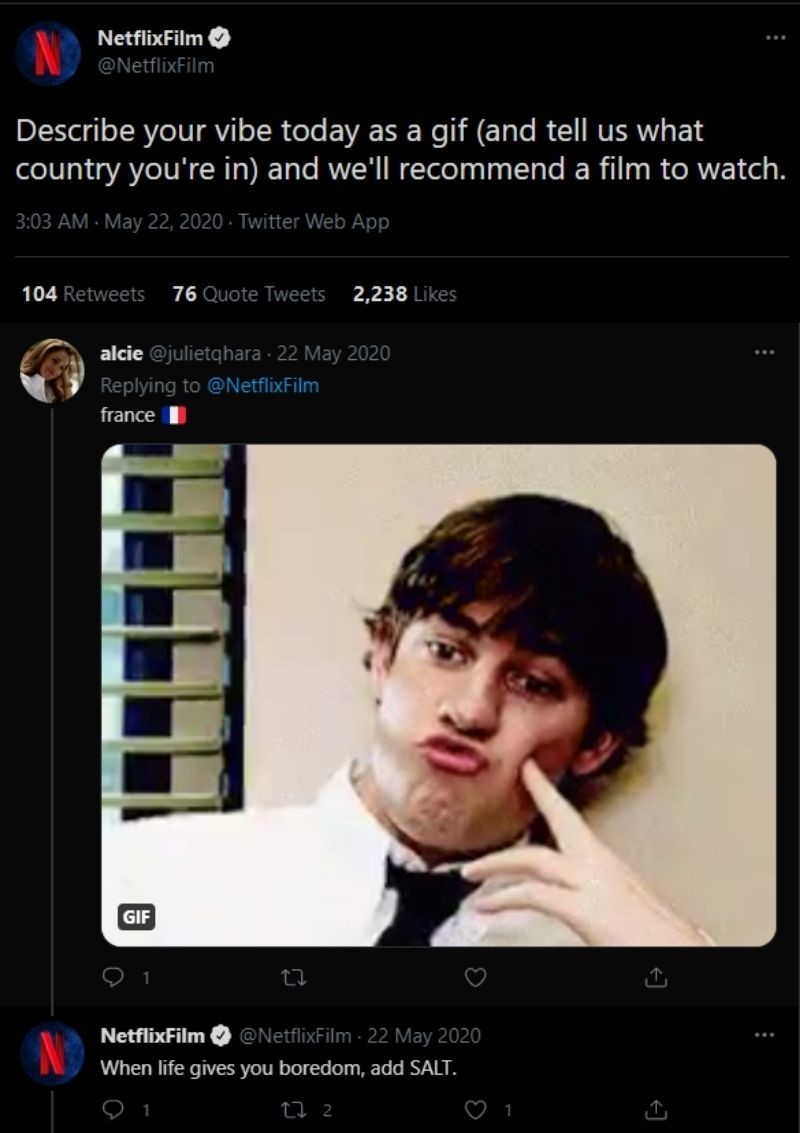 Image source: Netflix Film's Twitter
This is not the case with Netflix, though. They love to talk to their fans, which is what social media is for—to be social and not selling stuff 24/7. It is important for brands to engage with their followers; if not, you'll just be talking at them, not to them.
Personalised marketing (emails and push notifications)
Many of us live a busy life and might not get the time to scroll through our Instagram feed to see Netflix's hilarious posts. Outside of social media, we have to clear many updates and notifications on our phones. And among those notifications, you will also receive push notifications from Netflix reminding you about the new episode of the show you are watching or suggest a film you might enjoy watching.

It's remarkable how you don't have to tell Netflix to remind you about an episode, like setting the alarm on your phone to wake up in the morning.
In addition, Netflix still utilises email marketing, the most traditional type of digital marketing on the internet. And they seem to be doing it right.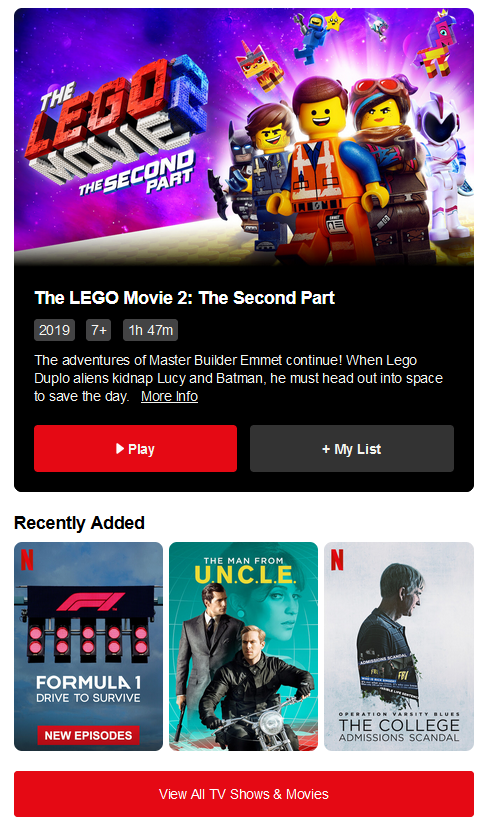 First of all, they do not bombard you with their emails every day. The frequency of emails from Netflix ranges from one to three times a week. The email is also usually a reminder to finish watching the show that you have not completed or notify the release of a new series.
The email itself is straightforward, with no long paragraphs pushing you to ask your friend to subscribe to the service. As you can see from the screenshot above, they provide a reminder and clear call-to-action buttons, either watching it or adding it to "My List". Short and sweet.
A quick recap of Netflix's marketing strategy
Disney+, Amazon Prime Video, or any other streaming platform may catch up with Netflix in terms of content and subscribers. But, they're a long way from reaching Netflix's marketing game. These are some lessons we can learn from Netflix in marketing your business:
Be creative—think out of the box, but keep it relevant

Content with a touch of humour goes a long way

Push notifications should pull your audience, not push them away

Email marketing is not dead, as long as you do it correctly—have clear call-to-actions