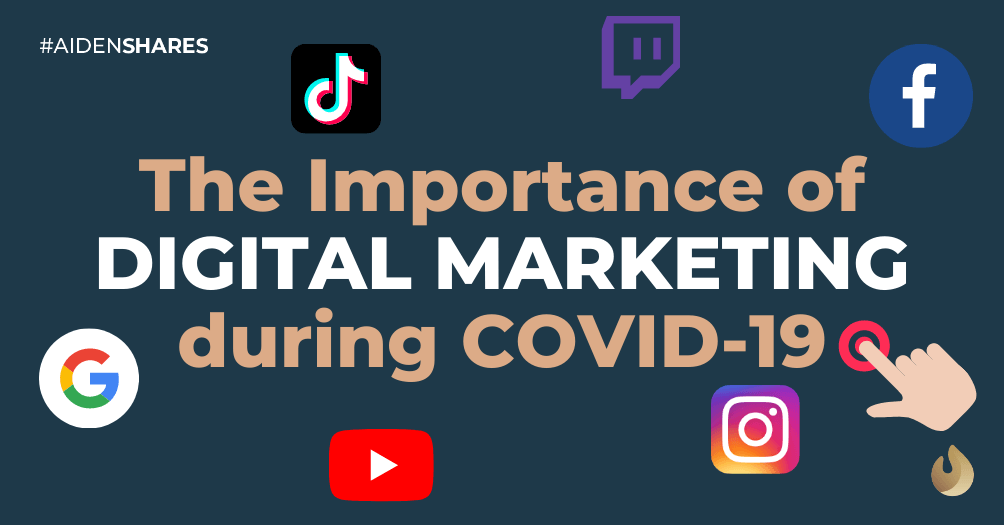 It is evident how different things have become due to the COVID-19 pandemic. 
With social distancing being the norm, companies steadily adopting work from home practices, and video conferencing becoming the new means for carrying out meetings and large group events, the way we work has since shifted tremendously.
That isn't all a bad thing. While distancing measures and the curbs to ensure safety may have hampered business performance for a large number of industries, new opportunities have since arisen with tech. 
Digital platforms and new technological tools like Zoom have enabled companies that were swift to adapt to tap into new ways of outreach, thus sustaining, and in some instances, even boosting sales.
Despite the initial challenges posed, the pandemic serves as a motivator for companies to revamp current business models and marketing strategies and explore new means to communicate and engage with their treasured customers.
But how can companies do so?
First, let's take a look at how digital marketing has helped in the COVID-19 pandemic. 
The role of digital marketing during the pandemic ✅
A key touchpoint in the buyer's journey
While omnichannel marketing has been around for years, physical touchpoints remained a key decisional touchpoint for many before the pandemic.
Be it personally selecting the freshest looking vegetable from the supermarket, trying on an outfit to make sure that it fits, or simply fiddling with the latest mobile handset to see how it works. It was critical for many to physically view, hear or touch the product they were interested in to evaluate whether they wanted it. 
With safety measures restricting the various ways consumers could sample and try products (especially during the circuit breaker days), factors affecting customers' purchases have since shifted, with a greater emphasis being placed on digital brand touchpoints. 
According to a survey conducted by Rakuten Insight, 56% of the respondents stated that they had purchased more online during the COVID-19 pandemic in Singapore as of May 2020 compared to previous years.
The greater volume of online purchases means that more decisions were being made online (as opposed to in-stores traditionally), thus suggesting that it is important for brands to provide customers with a positive experience digitally. 
In line with this, more companies hence began exploring new ways to educate and appeal to their consumers online. That included featuring better product images on e-commerce platforms, food delivery apps, social media pages, and more details on the retailed product.   
Videos also surged in popularity, with live videos being used to showcase products and services, as well as engage audiences. Real estate agents and many home furnishing companies tapped on the medium to provide virtual viewings in place of physical show flat viewings, while other services or niche industry companies relied on online webinars to address questions that their potential customers may have. 
An alternative avenue for sales
It goes without saying that brick and mortar businesses took a massive hit due to the COVID-19 pandemic. Companies that relied heavily on physical footfall found their sales plunging due to the restrictions placed over the circuit breaker period from the food and beverage sector to the retail industry. 
Hence, the government and various agencies introduced initiatives to help companies go digital and reach out to audiences online. This included government schemes (e.g. the Enterprise Development Grant or Productivity Solutions Grant) that provided companies with subsidies for developing digital solutions, including websites, software, automation technology, and redesigned workflows. 
Many companies were then able to leverage these initiatives to develop e-commerce or web applications to support their businesses or join an established marketplace platform (such as Grab and Shopee) to retail their services to audiences stuck at home. 
A key mode of brand awareness
At the end of the day, having an online channel to carry out transactions isn't wholly sufficient for survival. Companies that previously relied on their location's footfall now found the need to market their products and services online to attract customers.
Beyond engaging digital marketing services such as Pay-Per-Click advertising, Search Engine Optimisation and Social Media Advertising for promotions, community-driven modes of advertising have also emerged for small businesses in the form of Facebook Groups and Telegram Channels. 
For example, hawkers who struggled to garner traffic and lacked the funds to advertise their stores could promote their store for free on community-founded Facebook Group Hawkers United – Dabao 2020, which to date has over 285,000 members.
Businesses were also able to share ongoing deals through rising Telegram Channels such as SG Kiasu Foodies and GoodLobang, which have over 160,000 members each. 
Leveraging on digital marketing 💻
More than just tactical services with a standardised formula, digital marketing is a malleable tool that can be custom fitted based on each company's needs and challenges. 
For companies just starting on digital marketing or exploring new ways to navigate through the COVID-19 pandemic, here are three steps you can hence take to adapt your business.
1️⃣ Build your digital touchpoints
As an essential checklist, most businesses should have the following:
A company website to provide information on the company's offerings and background or retail products and services.

A Google My Business listing to appear on Google's search results.

Social media pages on more than one platform (e.g. Facebook, Instagram, LinkedIn, TikTok) to engage and provide customers with updates on the company.
WhatsApp or Telegram Point of Contact to handle any customer enquiries.
Having these channels, however, will not be sufficient. Utilise these channels as a means to convey your brand's selling points to consumers—through virtual showcases of what your product can do, aesthetic visuals of what they will get, or lengthy descriptions of the cool features and functionalities they will enjoy through you. 
At the end of it all, your digital touchpoints should convince customers why they should choose you over a fellow competitor. Providing your customers with a clear understanding of what they can expect to get more often than not does the trick.
2️⃣ Explore new ways to sell
Exposure is key to developing greater brand awareness for any company. Try to place your company on as many relevant digital platforms and channels as possible to increase your chances to be discovered by your potential customers and thus, gain sales.
To expand one's outreach further, companies can also consider embarking on marketplace platforms (e.g. Carousell, Grab, FoodPanda, Shoppee, Amazon) to retail the company's offerings digitally.
Do note that these platforms often charge to feature or retail your products, so evaluate which platform will best connect you to your target audience and offer a good return on investment before getting on board all platforms.
3️⃣ Diversify your outreach methods
With a vast number of media platforms available today, one should leverage as many channels as possible to create outreach for their business. 
This can include: 
Run social media campaigns to reach out to potential customers.

Update Google My Business to optimise it for Google search results.

Run

PPC

ads to garner clicks on high search intent keywords. 

Get listed on directories that are categorised by industry and trade.

Do shoutouts on Facebook Groups and Telegram Channels that cater to a specific audience (e.g. deal hunters, students, females). 

Collaborate with micro or macro influencers to promote your company.

Boost your own listing on the marketplace you are retailing on.
Each outreach method ultimately has its pros and cons, varying in terms of costing, outreach, and effectiveness in reaching out to your target audience. Depending on who you want to reach out to, your budget and your industry, this could vary from company to company.
Nonetheless, with awareness being essential for any form of a sale to happen, it does pay off to invest in the right channel that directs your customers to you. 
Not sure how to proceed?
At Aiden Creative, we offer Integrated Marketing solutions that encompass digital marketing and outreach strategies as well as website development for your business process and automation needs. Tap that WhatsApp button to find out how we can help today!