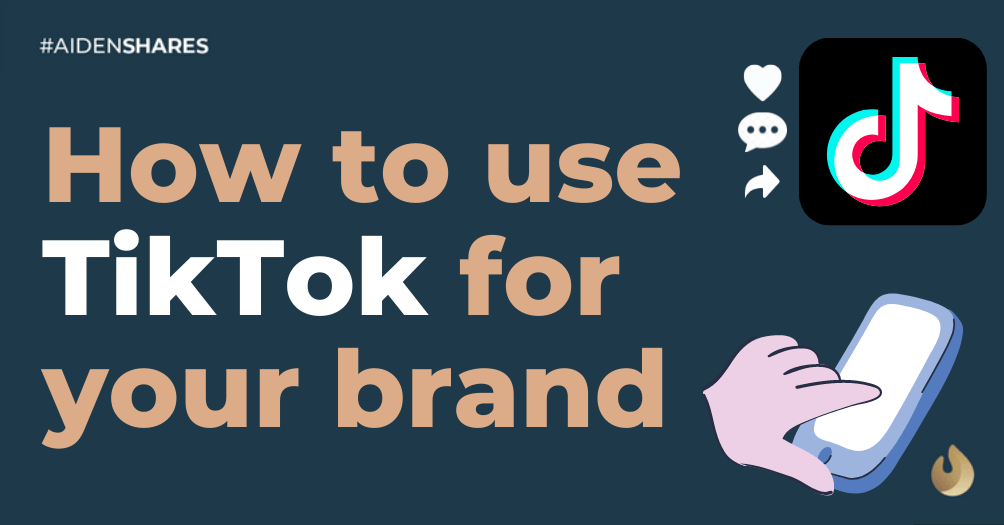 The year is 2022, and as a business owner, you have heard just too many times about how you should start getting your brand on TikTok. Your intern made it happen, and voila, you have a TikTok account for your brand.
Okay, but what's next? What should you post? How do you use TikTok for a business?
TikTok indeed makes it easier than ever to go viral for average Joe and ordinary Jane. Even if your following is small, your brand may explode. How could this be!? The app's algorithm promotes individuals or brands who stand out for their merit.
With a level playing field, utilising growth hacks will supercharge your TikTok game. The popularity of your content may move closer to virality and help you grow a larger following for your brand. 
Try these simple TikTok hacks, with examples from small and medium businesses because not every brand has a blockbuster budget.
TLDR ON HOW TO USE TIKTOK FOR YOUR BRAND
Be creative

Be relevant

Interact with your community

Keep up with the trends

Partner up with influencers

Use 3-5 hashtags for brand discovery
Get your creative juices flowing
Just because other people are doing something on TikTok and it's working for them doesn't mean it will work for your brand. To be successful on the app, you need to create original and unique content for your target audience. This means that you need to take the time to understand what makes you unique as a brand and how to use TikTok's features to your advantage.
Additionally, it's important to remember that each business is different and will require a different approach when it comes to marketing on TikTok. So don't be afraid to experiment with different strategies until you find something that works best for you. It's also a platform where not everything is prim and proper; you need to be able not to take yourself so seriously and show your raw, natural self. There's no fixed equation to going viral or getting more reach on TikTok. You'll only know once you try it!
Be relevant to your brand and audience
Being present on TikTok is a great way to connect with your audience, share your brand's message and know your customers better.
For example, if you are a clothing company, post content with your latest designs, styling tips or how your employees are keeping up behind the scenes. If you are a restaurant, post "food-gasmic" close-ups of your cheese-pulls or the ambience of your cafe. Whatever you share, make sure it is exciting, new and engaging for your viewers.
Another instance that we can think of is how JJ's Fashions amassed over a million social media followers in 4 months. They create TikTok that are relevant and funny for their audience.
When it comes to marketing, it's important to be relevant to your target audience. Relevance is key when it comes to getting more eyes on your brand. If you can create content and messaging that speaks to the average person, you'll be more likely to capture their attention.
Engage with your community
We can't emphasise enough how important it is to engage with the TikTok community. The TikTok comments section is a very happening place. After watching a TikTok, the first thing viewers do is view the comments to see what other people are saying and whether the brand is genuine enough to respond to mere viewers. Seize that space!
It is a great way to build relationships with your viewers and create a loyal following. When you engage with your viewers, you show that you care about them and want to connect with them. This can be done in various ways by responding to comments, hosting contests or giveaways, or replying to their questions with a TikTok. 
By engaging with the community, you also give them a reason to keep returning to your brand. This will help increase viewership, loyalty and may even lead some of your viewers to become advocates for your brand. So be sure to take the time to engage with your viewers regularly and show off your brand personality. It will be fruitful in the form of increased brand awareness, engagement and possible conversions.
Keep up with the trends
The TikTok app is built on trends. As a brand, leveraging trends allows you to show your personality and emphasise how you are relevant in all situations. A trend generally uses a common theme or music which is repeatedly viewed by people, and users can even put their own spin on it.
Usually, when a trend goes viral, almost everyone is trying to get on it, and it's possible that the soundtrack or actions in the video are stuck in your head because you see them so often. You might say, "repetition is boring". It is, if it's the exact same thing again and again. TikTok wins here. It has a very diverse variety of content, and believe it or not; this content is never repeated because it comes from unique users. Viewers become so familiar with the sound or action that when they see someone else doing it (yet again), they want to view it to the end just to see how different people are doing the same trend!
In addition to generating original material for your brand, you should be aware of current trends your viewers are watching and use that to your advantage! 
Find out what's trending this month here.
Collaborate with influencers
You'll be surprised how social media demographics truly embrace their influencers.
Influencer marketing can convince Singaporeans to buy a product or try a service better than your brand.
There are many benefits to influencer marketing:
Establishes trust between a brand and its target consumers

Generates reach for brand awareness
Hashtags can be your best friend
Hashtags are a great way to boost your brand's visibility on TikTok. When used correctly, hashtags can help you reach a larger audience and increase viewership for your videos.
Unlike Instagram, you do not have the luxury to include a ton of hashtags on your posts. So choose wisely and keep in mind the following tips:
Use relevant hashtags that are specific to your brand or industry

Use hashtags that are popular or trending, but make sure they are still relevant to your content

Use a mix of branded and general hashtags to reach a wider audience

Experiment with different hashtags until you find ones that work best for you

Don't use too many hashtags – 3 to 5 is a good number
The best thing you can do for your brand on TikTok is: create TikTok, not ads. That is what TikTok always reminds businesses that want to build their brands on TikTok. If you keep this in mind, you'll be much more likely to return to a sea of views, comments, and shares!