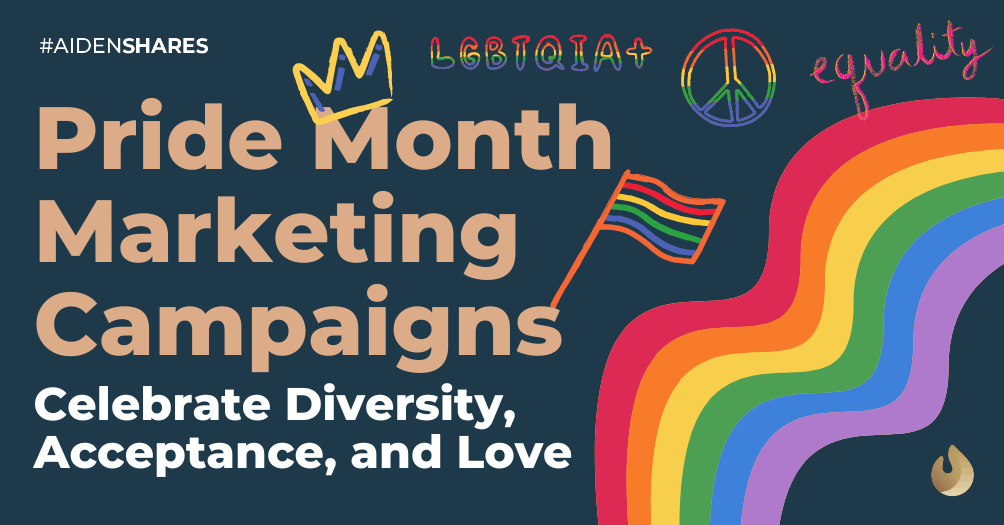 June is Pride Month! 🏳️‍🌈🏳️‍🌈🏳️‍🌈
It's important to remember the purpose of this annual celebration. Pride is much more than pretty rainbow flags and colourful parties. It's about diversity, acceptance, and love for the LGBTQ community.
In other words, Pride Month also advocates for their rights and celebrates the progress that has been made by the LGBTQ community. That is why businesses everywhere gear up for Pride Month marketing campaigns to show their support and involvement in the celebrations.
And if your brand wants to support the cause, here are some meaningful campaigns to inspire your next pride campaign.
Impactful Pride Month Marketing Campaigns 2022
You definitely do not want to become a brand that just has a pretty display without any good contribution to the LGBTQ community. You gotta believe in the cause!
The following campaigns are outstanding inspirations that show your customers and employees that they are an inclusive company that wants to bring positive conversations and support the LGBTQ community.
Fossil
View this post on Instagram
If you do not want your brand to be seen as just taking advantage of Pride Month for sales, then you need to see what Fossil did.
And what exactly did they do?
They donated 100% of the proceeds from their 2022 Pride collection sale to The Trevor Project—an organisation that provides mental health and suicide prevention services to LGBTQIA+ youth. With the collaboration, Fossil and The Trevor Project expect they can advance meaningful dialogues about allyship, mental health, and suicide prevention. 
Crocs
View this post on Instagram
Recognising Pride should not just be a one-month in a-year occasion—it should be every day. That is what Crocs did! Through the "Love As You Are" campaign, Crocs brought some spotlight to prominent individuals and couples of the LGBTQ community.
Besides bringing some visually-appealing Crocs and its Jibbitz, they also shine some light on how the Pride movement should be seen as a self-love journey and remind others that there is still so much work to be done to support the LGBTQ community and their rights. Crocs also have donated to GLAAD, a media advocacy organisation dedicated to helping LGBTQ acceptance.
Savage x Fenty
View this post on Instagram
A little background, Savage x Fenty is a lingerie brand from the global star Rihanna. June 2022 marks the launch of their first Pride collection, and all proceeds from the sale go to the LGBTQ community.
But where will the money really go? Once again, it's to support GLAAD! 
Another important thing about this campaign: Savage x Fenty took their support of the LGBTQ community to the next level by working with photographer Quil Lemons, beauty artist Hector Espinal, and 13 LGBTQ models to come up with stunning stills for their collection.
Kérastase
View this post on Instagram
In June 2022, Kérastase was estimated to donate €200,000 globally through their campaign. And, where did this number come from?
They just put out their most popular product, Elixir Ultime L'Huile Originale hair oil, in a Pride limited edition release. With 100% of the profits from the special release are donated to local charities that support the LGBTQIA+ community.
Absolut Vodka
Though the world has come a long way in terms of LGBTQ acceptance, many people from the community still need a safe space. LGBTQ bars are one of these safe spaces.
Unfortunately, the number of LGBTQ bars declined from 2019 to 2021. As an ally to the LGBTQ community, Absolut Vodka brought the "Out & Open" campaign to help LGBTQ bars thrive again. What we like about this campaign is that it is not a salesy campaign. It's not about pushing their bottle sales. Any ally or supporter of the community can tune into the campaign's landing page and hear the stories shared by others.
For every listen, Absolut Vodka will raise their donation by $1 USD and give it to the National LGBT Chamber of Commerce, helping to expand economic opportunities for the LGBTQ community.
Oreo
Oreo has always been an ally to the LGBTQ community. Back in April 2022, they released a short video about coming out. And then, in May, they announced a Pride pack edition for their cookies.
All the Pride-themed videos and cookies are a part of their collaboration with the nonprofit organisation PFLAG. Their goal was to support families, parents, and friends of the LGBTQ community.
Can we just name Oreo the official cookies for the Pride movement?
Levi's
View this post on Instagram
In support of the Pride movement, Levi's released another Pride collection in 2022. What is noteworthy this year is that they honour past and present activists who have been fighting hard for the rights of the LGBTQ community. Also, they bring out genderless messaging for their clothing collection.
Releasing a Pride collection alone is not enough. That is why Levi's also showed their support to OutRightAction International by donating $100,000 USD. The donation hopefully can support the advancement of human rights for LGBTQ individuals worldwide, not just in the US.
The key takeaway
With so many companies vying for the attention of the LGBTQ community, how can you make sure your campaign stands out?
Focus on authenticity because the last thing you want is to come across as tone-deaf and insensitive. Showing people that your brand is inclusive or supportive of LGBTQ causes without any meaningful action is not going to look good on you!
You could use your brand to raise funds for nonprofit organisations that help the LGBTQ community, encourage your followers to donate to LGBTQ+ causes, or do something as simple as showing your support regarding the everyday lives of your LGBTQ employees.